YutengDuring the use of computerized quilting machine, the main parameters of sewing speed should be controlled by computer. The movement speed of the quilting machine must be continuously adjusted according to the sewing work. During the whole process of using the computerized quilting machine, because the amount in the lock stitch may be endangered by the volume and size of the shuttle copper core cable, it is necessary to control the amount and capacity of the shuttle copper core cable to ensure successful sewing and not endanger the sewing quality.
Therefore, it is necessary to operate the main parameters of the thread capacity of the quilting machine's shuttle core for 24 hours, and turn off the machine to change the shuttle core. During the use of the quilting machine, in order to better realize the feeding regulations of different raw materials, different sewing sections must be specifically controlled with different feeding amounts during the whole feeding process.
For example, in the process of upper sleeve of suit, it is stipulated that different differential protection feeding amount of sewing process shall be carried out for different sewing sections according to computer control, so as to ensure the reliability of upper sleeve process of suit. The above is the computer control of the main sewing parameters of the quilting machine during the whole sewing process. The operation of the main parameters is the main way to improve the quality of the sewing products.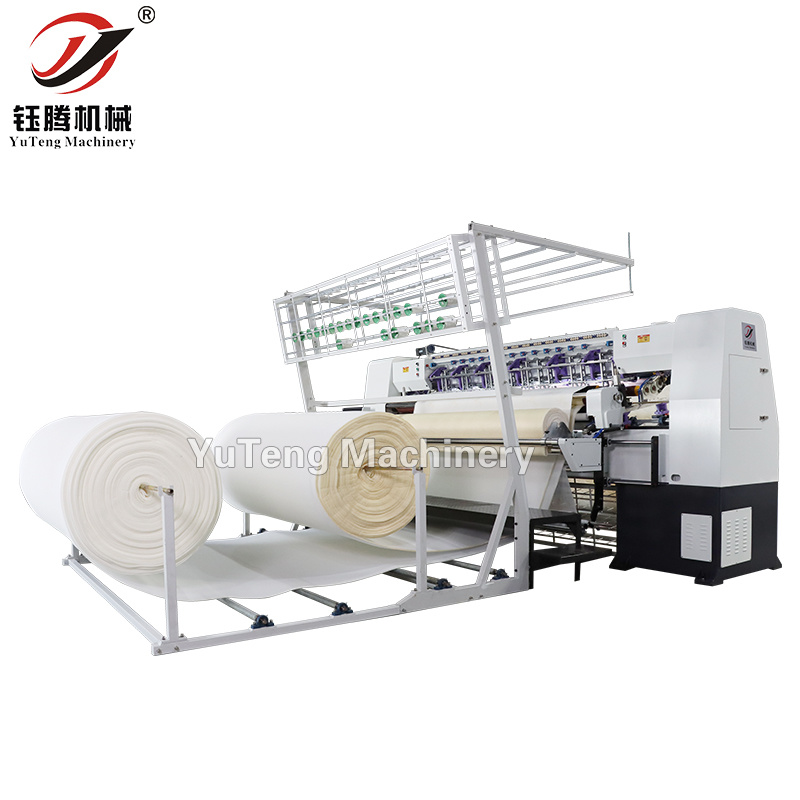 The identification of computerized quilting machine refers to collecting patterns and identifying the main parameters of patterns on time when the quilting machine is computerized quilting a pattern, and conducting online calibration according to the main parameters of patterns identified. Because of the deformation of the fabric, the start and end points of the fancy have a situation, so you must have a choice for the results of online calibration:
1. Try to keep the style unchanged;
2. Keep the position unchanged as much as possible, which may cause deformation due to the pattern of the computerized quilting machine;
3. To maintain the style of the pattern as much as possible, calibrate on the basis of the offset of the quilting point, which is the offset of the pattern of the computerized quilting machine.
Computer quilting machine is a kind of universal industrial equipment for mattress, which has the characteristics of fast speed, unique stitch leveling, etc.
Yuteng quilting machinery, with its own advantages and industry experience, provides customers around the world with more optimized solutions for quilting machinery products. Warmly welcome new and old customers to visit us for guidance, sincere cooperation, common development and achievement.