YT-3200B Mattress Quilting Machine High speed Computer Shuttleless Multi needle Quilting Machine
1. The needle bar and pressing plate movement adopt aluminum alloy needle bar frame and pressing bar frame structure, which are fuel free and durable; 2. With 360 degree random quilting and unlimited independent pattern step function, automatic thread cutting function; 3. Self developed "Yuteng quilting system", which is compatible with embroidery DST files, and easy to understand;
---
Product Details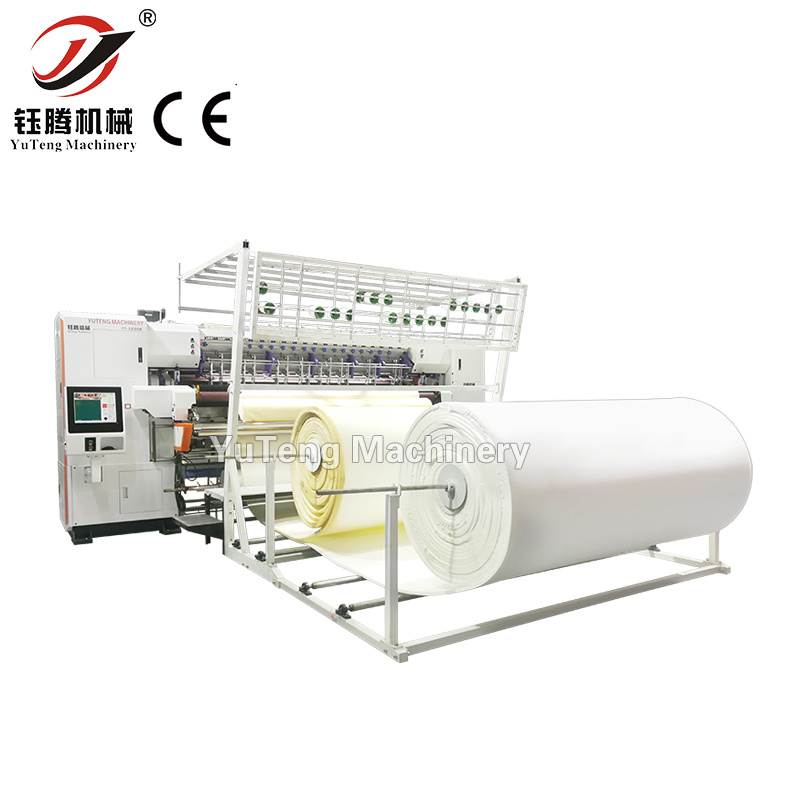 Mattress quilting machine High speed computer shuttleless multi needle quilting machine Technical parameters:
| | |
| --- | --- |
| Machine model | YT-3200B |
| Host size (L * W * H) | 5050mm*1600mm*2300mm |
| Quilting width | 2450mm |
| Number of needle rows | 3 |
| Stitch spacing | 3"+2";3"+3"(英寸) |
| Needle pitch | 25.4mm |
| X-Stroke | 305mm |
| Quilting thickness | ≤80mm |
| Needle step | 1-12mm |
| Production speed (m/h) | 60-230(m/h) |
| Needle model | 21#,22#,23#,24# |
| Quilting speed (rpm) | 1200 (rpm) |
| Voltage (AC) | 380V/50HZ , 220V/60HZ 3-Phase |
| Power | 8KW |
| Weight | 5200KG |
Special models can be customized according to customer requirements
Mattress quilting machine High speed computerized shuttleless multi needle quilting machine Main features:
1. The needle bar and pressing plate movement adopt aluminum alloy needle bar frame and pressing bar frame structure, which are fuel free and durable;
2. With 360 degree random quilting and unlimited independent pattern step function, automatic thread cutting function;
3. Self developed "Yuteng quilting system", which is compatible with embroidery DST files, and easy to understand;
4. The host is equipped with embedded industrial computer and self-developed motion control chipset, which has fast response, long service life and good stability;
5. The spindle is driven by a servo motor, which can change the speed, and can rotate in the positive and reverse directions. It can cooperate with the software to complete the hook thread cutting function;
6. The thread trimming structure adopts the internationally advanced hook thread trimming function, which effectively reduces the jumping rate and makes the quality more stable;
7. Powerful pattern combination and unlimited step function can quilt different patterns in each line of mattresses of various sizes;
8. High rigid body, fast running speed, balanced running, high precision, low jumper rate and more beautiful stitch;
9. Automatic stop function for thread breaking of bobbin thread and upper thread and infrared safety protection function;
Mattress quilting machine High speed computer shuttleless multi needle quilting machine Scope of application:
It is used to produce high-grade mattress fabrics, bedding, wind proof quilts, home decorations, carpets, cushions, etc.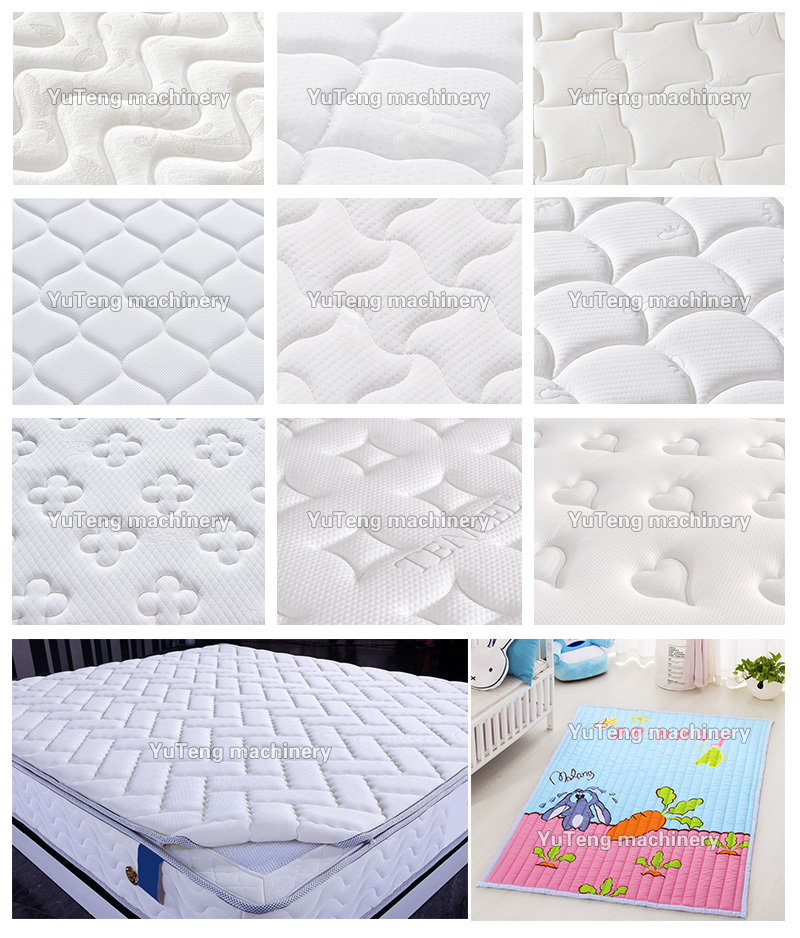 About us:
Dongguan Yuteng Machinery Technology Co., Ltd. is a modern high-tech enterprise integrating product research and development, production, sales and after-sales service. It is the only quilting equipment manufacturer with independent research and development capability of machinery and software in China. The company's main products are "high-speed computer shuttleless multi needle quilting machine", "high-speed computer shuttleless multi needle quilting machine" and related supporting "computer intelligent cutting machine", "automatic cloth rolling machine", "winding machine", etc. It is widely used in the production of clothing, bedding, textiles, leather, shoes, hats, gloves, bags, sleeping bags, handbags, cushions, home decorations and other fields.
Adhering to the business philosophy of "products are the best marketing and quality is the best service", the company has widely won the recognition and trust of new and old customers by covering the after-sales outlets nationwide with high-quality product quality.
Integrity, professionalism, technology and innovation. Yuteng Machinery looks forward to working hand in hand with you to create brilliance!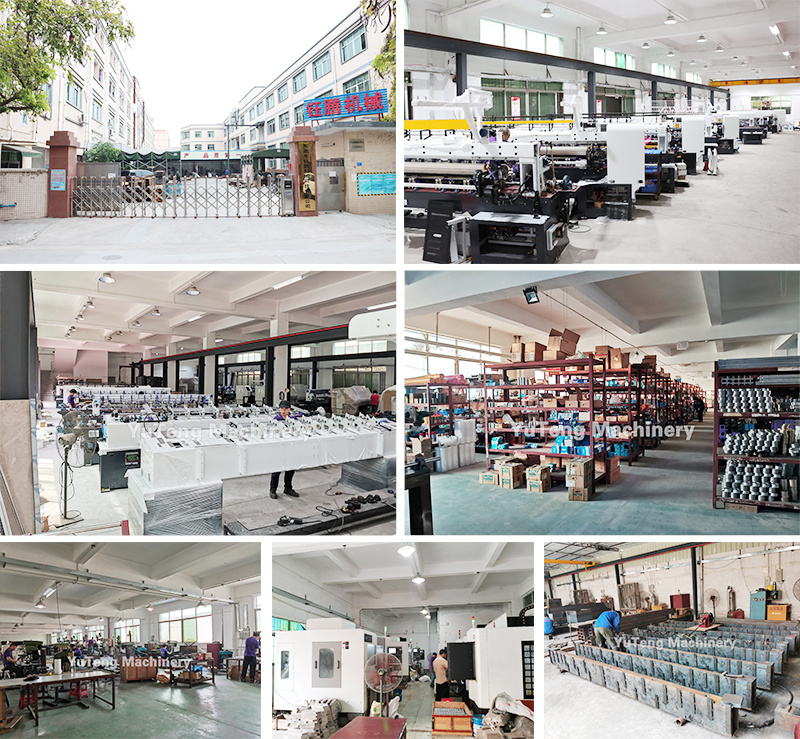 YT-3200B Mattress Quilting Machine High speed Computer Shuttleless Multi needle Quilting Machine
YT-3200B Mattress Quilting
Computer Shuttleless Multi
Online Message
*Note: Please be sure to fill in the information accurately and keep the communication unblocked. We will contact you as soon as possible